Your basement is probably one of the best places at home to store wine. It's dark, undisturbed, and small enough for easier humidity and temperature control. If you don't have a cellar, the basement is the next best place to keep your precious collection of wines. All you need is to condition your basement and get the right rack to house all your bottles. Below, I reviewed five of the best wine racks for basement that I also have at home:
WINE RACK
BRAND
EXPERT RATING
CHECK PRICE

Our Top Pick!


Wine Racks America
64-Bottle Pine Rack

Check Price

Creekside 24-Bottle
Wine Cubes

Check Price

Stakrax Modular 50-
Bottle Wine Rack

Check Price

Merry Products
16-Bottle Wine Rack

Check Price

DisplayGifts 72-Bottle
Pine Wine Rack

Check Price
---
Why do you need a wine rack?
While you can always stash your wines almost anywhere, having a rack has its perks. The following are the reasons why you should get a dedicated rack for your spirits:
✔️You have to keep the bottles horizontal. By keeping the bottles lying down, the cork remains moist so it wouldn't crumble when you use an opener.
✔️It keeps sediments to the side. By placing your wine bottles in a horizontal position, the sediments will be concentrated on the bottle's side and not on the neck. It will prevent it from spilling once you pop the cork open.
✔️It's aesthetic. Instead of using cardboards and DIY solutions, a dedicated wine rack is a classy way of keeping your spirits well-stored. It also prevents the bottles from falling and shattering.
✔️Shields your wine from light. Many wine racks are made of solid wood that limits the contact of the wine to light sources.
---
How to condition your basement as wine storage
One thing you should know about basements is it tends to have fluctuating humidity and temperatures. To groom it as a wine cellar, you must do the following:
✔️Seal and insulate
The first thing you should do is to seal any gaps and holes in your basement. Such entryways ruin temperature control in your basement. You should also apply a penetrating sealer on the floor to prevent moisture and vapors from entering the room.
✔️Install a vapor barrier
Next, you need to install a vapor barrier behind the insulation of your basement. This will protect your basement from cold and warm temperatures that may spoil your wine. You also need to control vapor formation since it's a catalyst to mold. Such a thing will ruin wine labels and even cause rot in your basement.
✔️Furring
If you spot wall cracks, you must treat it with spray foam. Next, consider installing foam strips to start furring the wall. A 2 to 4-inch foam would be ideal to make it easier for you to control room temperature. Furring makes the walls thicker, which, in turn, makes it easier to control vapor and temperature levels.
Also, you must select the right door. The door of your basement wine cellar should have weather stripping paired with a thermal pane unit.
✔️Invest in a cooling unit
Once your basement is all sealed and vapor-proofed, the next step is to install a cooling unit. I personally prefer a through-the-wall cooling system that looks like an AC unit. It's cost-effective and easier to put up.
However, you need to bore a hole in your cellar to install this cooling system. Since these devices are noisy, try to invest in one that produces less sound.
Another option is a split cooling system, which has the same component as split air conditioner systems. With this option, you only need to create a small hole for the hose. Also, the noise would be less since the compressor is located outside. However, you need professional help to install this type of system.
✔️Choose a reliable wine rack
Lastly, you need a reliable wine rack that will last for years. Those made of pine and solid wood are the best choices since it's durable and will shield your wine from lighting.
---
What to look for a wine rack?
When shopping for the best wine racks for basement, you should consider the following aspects:
🍷Capacity
The first thing you should check is the number of bottles the rack can hold. It could range from anything between 1 to 70 bottles or more. Depending on the size of your wine collection, you can get more than one rack. If you plan to grow your collection, it's wise to get a bigger unit.
Aside from that, you should check the bottle size to which the capacity is based. Usually, it would be based on standard Bordeaux-style or 750 ml bottles.
🍷Material
Wine racks can be made of either metal or wood. Personally, I prefer wood because of its sophisticated look, plus it's not prone to rust.
You should always check the thickness of the wood. If your rack will be used for years, you should invest in ¾-inch thick wood material.
I also want to warn about inferior wood. Although it's cheaper, it will soon cost you more on replacements. If you want a cheaper option without sacrificing the quality, you can get a modular type instead.
The finest wine racks are made of mahogany, pine, redwood, and other hardwood options. Although it costs a bit more than other options, these materials can take the beating of decades of use.
Lastly, think twice before getting a wine rack made of cedar or stained wood. Over time, it can stain the bottle and cause an aesthetic issue. But if you don't mind such a thing, I don't see other issues about stained wood.
🍷Rack type
Wine racks are available in the following types:
Countertop wine racks. This is on the smaller side, which can hold several wine bottles. You can easily place this on the kitchen countertop or your home bar. This is the reason why countertop wine racks are good options. However, since they are smaller, it may not be the best option for a large collection. Anyway, if you want to display a few bottles at home, this would be a good purchase.
Wall-mounted racks. Like the countertop type, wall-mounted racks are smaller. It usually comes with glass holders, so it doubles as a decoration. It's often installed on kitchens and home bars.
Hanging wine racks. This wine rack hangs from the ceiling, which can be tricky to install. It's usually used as a decorative option for home bars and kitchens. If you are to choose this rack type, you must be careful about the quality. This is to prevent your wine bottles from ending up as a mess on the floor.
Floor wine racks. For those with a larger collection, floor wine racks are good options. It has a larger capacity, sometimes holding up to 60 to 70 bottles at once. It's perfect for basement cellars.
Modular wine racks. This type of wine rack has removable parts that you need to assemble. The good thing about this choice is you can expand or downsize your storage easily. It's also cheaper than solid wood floor wine racks, but you have to be careful about the quality.
---
5 Best Wine Racks for Basement
OUR #1 CHOICE
OUR TOP PICK: Wine Racks America 64-Bottle Pine Rack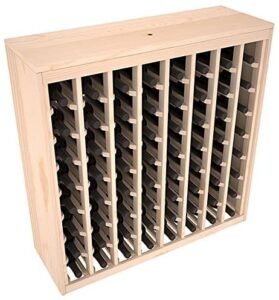 Product Name: Wine Racks America 64-Bottle Pine Rack
Product Description: If you're looking for the best wine racks for basement to store your large collection, you should get this one from Wine Racks America. This has a 64-bottle capacity that measures roughly 76 inches tall, 36 inches wide, and 12 inches deep. This can fit 64 750 ml wine bottles with minimal assembly required. It's made of ponderosa pine and available in different finishes and stains to suit your taste. But if you don't want stained racks, this one is also available in an unstained version.
Offer price: $$$
Availability: InStock
Summary
Moreover, this rack is made for aging wine. As a floor rack type, you can easily place it in your basement cellar with a height of at least 7 feet tall, which is the International Residential Code (IRC) standard. The best part about this Wine Racks America unit is it's backed by a money-back guarantee. And since it's made for aging wine, you're also entitled to a lifetime warranty. Take note that it's not designed for wall-mounting. Still, it remains sturdy and stable as a free-standing rack. It also looks very aesthetic with unbeatable craftsmanship, and for its price, this is already a steal.
Quality

Durability

Value for Money
Pros
Made of high-quality pine Perfect for a big wine collection Lifetime warranty + money-back guarantee
---
RUNNERS-UP
Creekside 24-Bottle Wine Cubes
If you have a smaller wine collection, you can consider the Creekside Wine Cubes. It's a stackable rack, making it semi-modular storage for those with small to mid-sized collections.
It's composed of two cube racks that measure 12 x 20 x 20 inches. This is an aesthetic option that you can easily rebuild to suit the storage area. You can also place one cube as a countertop rack to display some of your precious spirits.
Like the one from Wine Racks America, Creekside can house 750 ml bottles. It has a 24-bottle capacity with a 12-inch deepness, so the bottles' necks don't stick out.
One thing I like the most about this rack is that it's made of unstained pine and redwood. If you want to add your own touch, you can finish and stain this rack on your own. Without added work, this rack remains aesthetic and durable as a storage unit for your wine.
Overall, these are sturdy wine cubes with thick wood that can last for decades if you're aging spirits. It's very easy to assemble, too, and you can also order multiple cubes for a larger collection.
---
Stakrax Modular 50-Bottle Wine Rack
For those looking for a modular wine rack, I highly recommend the one from Stakrax. It can house 50 bottles, but you can easily narrow down the size by removing the other bottle slots.
As one of the best wine racks for basement, this is easy to put together or dismantle. You don't need any special tools to assemble each bottle slot. Overall, this rack allows you to store 1 to 50 bottles with ease.
Each bottle slot is 9 7/6-inch deep and 4 1/8-inch wide and tall. It's made of industrial-grade polypropylene that will not stain your wine bottles. It's also a convenient option since you no longer have to squeeze in a large rack into your basement. You can assemble it on the spot or dismantle it if you want to relocate your bottles.
Moreover, it's a great choice for closets if you want to age your wine for long. Just note that this 50-piece doesn't come with the top plates, so you have to purchase it separately.
If you're worried about wood rot or rust, this plastic modular rack will suit you well.
---
Merry Products 16-Bottle Wine Rack
The Merry Products 16-Bottle Wine Rack is perfect for small wine collections. If you're converting your basement into a home bar, this rack is a perfect addition. It's a decorative piece that also doubles as a table.
Aside from that, this wine rack is fitted with a nine-glass chrome holder that fits wine, cognac, and whiskey glasses. You can pop a cork, pour, and sip straight from your wine rack. And since it has a tabletop, you no longer have to go far to enjoy a quick drink.
This is made of solid wood with a dark espresso finish. It can carry up to 25 pounds of wine load together with extras. Also, this wine rack is 10.94 inches deep, 21.18 inches wide, and 39.96 inches tall.
Aside from your basement, you can also get one for your kitchen or even your living room.
The only snag I noticed here is it takes effort to put the parts together. I have to ask a friend to help me out, but the result is worth the hassle. This is a classy piece that adds an aesthetic accent wherever you place it.
---
DisplayGifts 72-Bottle Pine Wine Rack
One of the best choices for those who have an extensive wine collection is the DisplayGifts Wine Rack. This can house a whopping 72-bottle collection on its 6 x 12 rows. What I also like about this rack is its modular design that you can easily downsize or expand to suit your growing collection.
Moreover, this wine rack is made of natural and solid pine wood. It's not stained, either, which prevents staining on the labels and bottles.
The manufacturer promises a wobble-free construction. This is quite true since it comes with dowel pins that lock each joint in place. Overall, this is very easy to assemble, and you don't need any special tools.
This rack is 24.75 inches wide, 60.5 inches tall, and 11 inches deep that can fit standard 750 ml wine bottles that you have. Take note that this isn't designed for champagne or magnum bottles.
I was really amazed by how sturdy this wine rack ended up to be, considering that it's semi-modular. I also have the freedom to finish or stain it if I wanted to. Some use glue on the dowel pins, but I don't think it's really necessary unless you're very paranoid.
---
Frequently Asked Questions
Q: Should a wine rack be tilted?
A: As much as possible, avoid tilted wine racks because it will cause the cork to dry. When that happens, the cork will shrink and give way for air to enter the bottle. The titled position will also cause sediments to build up on the cork if the bottle is placed upside down.
Q: Is it ideal to store wine in the fridge?
A: The fridge can be temporary wine storage, but it's not the ideal long-term solution. You should only put the wine on the fridge if you intend to consume it in one to two days. Unlike actual cellars, fridges don't offer a suitable environment for wines.
Q: How should a bottle of wine be stored?
A: A bottle of wine should be stored horizontally in a dry and dark place. If you plan to age your wine, you should place it in a temperature-controlled room. Wine is a very sensitive spirit, and the elements around it can easily affect its taste.
Q: Is it bad to drink wine if its cork falls in?
A: Usually, corks won't hurt the taste and condition of the wine. The judge here is your taste buds. The only problem you may encounter with corks that have fallen is that it will make it hard for you to pour the wine. It will come up to the opening and block the wine flow.
Q: Can I store wine in a closet?
A: If you're planning to store your wine longer than a month, a closet with wine racks are excellent. It will keep your wine bottles out of light and external elements. Just make sure that the closet is placed in a room with controlled tempserature and humidity.
---
Final words
The best wine racks for basement let you store your spirits properly. It also gives an aesthetic touch to your cellar while ensuring that your wine corks will not shrink. The five wine racks I reviewed here are guaranteed to have solid, stable, and durable construction. No matter how large your wine collection is, there's a wine rack here that suits you.