Leather wine carriers allow you to transport your favorite wines in style. Be it for an outdoor picnic or a gathering with family and friends, this carrier ensures that your bottles will arrive safely on its destination. If you're looking for the finest leather wine carriers for 2 bottles, you're at the right place. We tried over 20+ wine carriers for this post, and we came up with these five top picks.
WINE CARRIER
BRAND
EXPERT RATING
CHECK PRICE

Our Top Pick!


Tilvini Genuine Leather
Wine Bottle Carrier

Check Price

Piel Leather Double
Deluxe Wine Carrier

Check Price

Primeware Insulated
Wine Travel Bag

Check Price

Frehore Leather
Wine Carrier Bag

Check Price

Vetelli Leather
Wine Tote

Check Price
---
Why use a wine carrier?
Wine bottles are fragile, and it can get smashed in one wrong move. So instead of holding the wines while you travel, it's best to get a dedicated carrier. Unlike other bags, leather wine carriers are stiff and made to protect the wine. Also, wine carriers keep the bottles in a dark space so it won't be exposed to heat and light that will affect its flavor.
Moreover, wine carriers are well-padded to prevent the bottles from rattling. It suits long travels to transport expensive and rare wines.
Aside from that, leather wine carriers are made to last long. It ages like a fine wine (pun intended!) and remains stylish as the years go by. Genuine leather wine bags also increases its value over the years if well kept.
Lastly, wine carrier bags are practical options than bringing an entire crate. You can even use the leather wine carrier as checked-in luggage so you can bring your favorite wines during your travels.
Based on TSA rules, you can carry as many wine bottles as you can on your checked-in luggage, but its alcohol content should not exceed 24%, and that the luggage should meet their weight regulations.
---
5 Leather Wine Carriers for 2 Bottles
OUR #1 CHOICE
OUR TOP PICK: Tilvini Genuine Leather Wine Bottle Carrier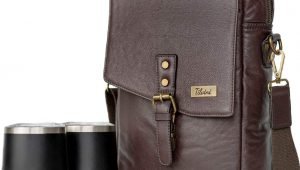 Product Name: Tilvini Genuine Leather Wine Bottle Carrier
Product Description: If you're looking for the best leather wine carrier for 2 bottles, you'll never go wrong with this one from Tilvini. This is probably one of the most stylish wine carriers we've ever seen, not to mention its topnotch craftsmanship. This tote bag is made of genuine leather with a premium suede lining under the bag flap. Meanwhile, the main compartment has thermal insulation to protect your wine from intense temperatures. There's also a removable divider so your wine bottles won't clink as you transport it. Aside from that, this comes with a large rear pocket where you can stash a wine opener and other accessories. The strap of the bag is also adjustable, so it's suitable for all users.
Availability: InStock
Summary
If you're looking for a wine carrier for your picnic or out-of-town trips, this one from Tilvini is a steal. It's also suitable as checked-in luggage if you're flying. It has a luxurious style with enough room for two wine bottles and two wine tumblers. By the way, the bag comes with two insulated stainless steel tumblers so you can sip right after reaching your destination.
Whether you're looking for a gift or a wine carrier for yourself, I highly recommend this option. This bag is a total beauty that lasts long, even if used frequently. It's the perfect bag for wine lovers who want to bring their favorites everywhere.
Material

Padding

Insulation

Price
Pros
Made of genuine leather
Insulated compartment
Large rear pocket
---
RUNNERS-UP
Piel Leather Double Deluxe Wine Carrier
Another leather wine carrier I recommend is the Piel Leather Double Deluxe Bag. This is made of luxurious, full-grain cowhide leather. It also has a vinyl lining so that spills won't damage the bag. And to ensure that the bottles won't clink, it has a sturdy divider that gives enough room for standard wines.
This wine carrier is handcrafted in Colombia, and the leather ages well over the years. It comes with a top handle that opens the lid so you can easily retrieve or load your wine bottles. This has a magnetic snap opening as well as a belt buckle for added security.
What I really like here is its natural naked leather. Everything is handmade, so you're guaranteed to get a sophisticated wine carrier bag. Another perk here is that this one is a tad cheaper than the option from Tilvini.
Anyway, the only thing I noticed is that you can't fit a wine tumbler on top of the bottles, even slim ones. Still, you can squeeze in a wine opener, which is just fine for me. Also, the bag isn't insulated, so it won't keep your wine cold or safe from intense heat. Nevertheless, the bag is firm and ideal for protection against impact.
This is a very classy wine carrier that you'll find useful when going to restaurants that allow you to bring your own wine. It's also perfect for family gatherings or surprising someone with a wine bag gift packed with the finest spirits you can find.
---
Primeware Insulated Wine Travel Bag
For those who want a backpack style wine carrier, this one from Primeware is a convenient choice. It's made of 100% full-grain leather with a durable canvas top. It will protect your wine bottles wherever you go.
Aside from that, it has a side panel for holding corkscrews, with one already included in the package. Meanwhile, the inside has a synthetic wool lining with insulation to keep your wines cool.
I also like the straps of this bag with real leather reinforcements. There's also a divider inside that's equally padded and insulated to keep the bottles from clinking. Overall, this is a well-strapped and well-made bag for transporting your precious wines.
You can carry this as a backpack or as a handheld tote. It's a very stylish bag that you can get in different colors and bottle number. I can say that this is already a steal for anyone who's looking for a durable wine carrier for its price.
Overall, this wine carrier looks cuter in person, and no one would suspect that you're actually bringing in some fine wine!
If there's one thing I wish they'd improve, it would be the top handle. It doesn't seem to be made of the same leather as the body. Other than that, I don't have major complaints because this bag is very affordable.
---
Frehore Leather Wine Carrier Bag
Are you looking for a wine carrier with a larger opening? If so, you should get the Frehore Leather Wine Carrier Bag. It's made of PU leather with a two-way zipper for your convenience. It also has a fabric shell that adds aesthetic and protection for your bag.
Inside, it has a PE foam padding as well as a waterproof layer that will secure your wine. It will keep the bottles cool as you transport it. There's also a small mesh pocket inside for your corkscrew. To add, it has a divider that will keep each bottle in place so it won't clink as you walk.
This can be used for picnics, tailgating, lunch with friends, camping, and more. Overall, this bag is 8.3″ long, 4.7″ wide, and 13″ tall. This can also be checked-in as luggage if you're flying with some of your favorite wines.
Another thing I like about this wine carrier is it remains upright even on grassy surfaces. And if you like, you can bring one wine bottle and two wine tumblers inside. It's a versatile bag that every wine lover would be thrilled to have.
Let me just say that although it's not made of real leather, it remains aesthetic and functional. Other people won't even tell the difference because this bag is well-made. I should add, this bag is very lightweight, so you can carry two bottles of wine without straining your shoulder.
---
Vetelli Leather Wine Tote
If you're on a budget and looking for leather wine carriers for 2 bottles, you should consider the one from Vetelli. This is made of PU leather with a fabric shell. It also has a well-insulated interior with ample padding to protect the bottles. It's sleek, cute, and well worth the price if you're short in cash.
Moreover, this wine carrier has a customizable divider as well as a large front flap. At the back, there's a zip pocket where you can store a corkscrew or wine key.
Another thing that I like about this wide bag is its durable zippers. Overall, this bag is 8.5″ wide, 13″ tall, and 4.5″ deep. It's easy to carry around and fairly lightweight, too!
This is a very classy bag, though I wish it's available in different color options, aside from burgundy. Nevertheless, it a durable tote that can give expensive counterparts a run for its money. It looks like an expensive option, which is a steal for its price range.
However, you should maintain this well since it's made of synthetic leather, which gets damaged faster than real ones. You should also oil the zippers from time to time so it won't get stuck and make it difficult to open the bag.
---
Wine carriers buying guide
When shopping for leather wine carriers for 2 bottles, you should look beyond capacity. It's important to consider these points as well:
✔️Material
The first thing you have to check is the material of the wine carrier. Leather is my go-to option because it's durable, stylish, and will last for years. It also has a water-resistant characteristic that will keep the wine safe in case you're caught in the middle of a downpour.
Aside from that, the material should offer a level of protection for the bottles. It should be stiff enough to cushion the blow. Most of the time, leather does this efficiently.
If you're on a budget, leather blended with fabric is a good option. It's also stylish and modern, in case you don't want anyone knowing that you have wine in tow.
✔️Size and weight
Next, you have to check the size and weight of the wine carrier bag. For two bottles, there should be a divider that will separate each one.
Some wine carrier bags have extra space so you can pack wine tumblers on the neck of the bottles. It's a bonus feature but not a requirement.
Moreover, you should also factor in the weight of the bag. Two wine bottles can be pretty heavy if you're carrying it around for too long. With that, the bag shouldn't add up to the load. Still, the light weight shouldn't compromise the quality of the bag.
✔️Insulation and padding
The insulation of the wine carrier bag will keep your wine cool and away from intense heat. As you know, heat will alter your wine's chemical composition, which will affect its taste and aroma.
Enough padding is also important so that your wine bottles won't clink or break when the bag suffered a blow. However, if you're using the wine carrier as a checked-in bag, you should still add more padding to prevent damages.
✔️Design
Wine carrier bags can be in tote, backpack, or sling design. Most of the carriers I've tried before are convertible to suit the style of the user. Basically, tote bags have handles, but you have to be careful not to drop it. Still, these design suits more formal events, like when you're wearing a suit or a dress.
On the other hand, backpack-style wine carriers are great for convenience. You'll have both your hands free, perfect for commuting or going for picnics or tailgating events.
Lastly, there are sling wine carriers. Most of the time, these are convertible as a tote. It's also convenient and will let you open the bag and retrieve a bottle while carrying it around.
✔️Price
Last but not the least, consider how much you're willing to spend on your wine carrier bag. Cheap ones are easy options, but it doesn't always guarantee the best quality. If you're a wine enthusiast, I suggest getting a carrier made premium materials. Although this means investing a few more bucks, it also translates to longevity and aesthetics.
---
Tips in transporting bottled wine
Are you planning to transport bottles of wine? Using a wine carrier bag, you should keep the following points in mind:
More padding. It's not enough that you rely on the padding of the wine carrier bag. You should also wrap each bottle with crumpled paper, Styrofoam, or bubble wrap. This will protect the wine from impact should the bag falls.
Place it in the luggage. If you're flying, you can place the wine carrier bag inside larger luggage. Make sure that it's placed in the middle, so there are pieces of clothing and other items that will cushion the blow.
Mind the rules. For flyers, it's always important to communicate with the TSA agents beforehand. Most of the time, they allow checked-in wine bottles with under 24% alcohol under a liter. If you're bringing more, you'll be subjected to tax and related fees.
---
Frequently Asked Questions
Q: Will wine explode in the cargo area of a plane?
A: No, wine bottles will not cause an explosion in the cargo area. However, what you need to be worried about is the manner of handling. If you don't pack your wines well, the bottles will break and make a mess on your carrier bag. Aside from using a durable leather wine carrier, you should also use a lot of insulation like bubble wrap and Styrofoam.
Q: Can I use any bag to carry my wines?
A: Sure thing, you can place your wine bottles in any bag, but it doesn't guarantee safety. Wine carrier bags are designed to protect the bottles from external force and other causes of damage. I suggest that you invest in a durable wine carrier bag to be sure.
Q: Can I bring my wine carrier bag in the airplane cabin?
A: Yes, you can bring the wine bag, but not with an actual wine inside. The amount of liquids you can bring in the cabin is very limited and is surely not an entire bottle of wine. If you want to transport your wine bottles, you need to check in your wine bag in the luggage section.
Q: How do I maintain a leather wine bag?
A: You should always clean your wine bag after every use. For genuine leather, you can use a saddle soap. You can also condition it using a leather oil. However, expect that the color of the leather will fade over time, which is normal for real ones.
Q: How big should my wine carrier bag be?
A: It depends on the number of bottles you want to carry at a time. The most convenient option is a single or two-bottle bag. It's useful for most outings and gatherings when you're serving wine in a small group. Also, two-bottle wine bags are easier to carry around.
---
Final words
Leather wine carriers for 2 bottles keep your favorite drink safe as you travel. Unlike other bags, it's made to shield your wine from intense temperature and external forces. Just make sure that you get one with the right size, material, features, and durability.
What do you think of our five wine carrier bags here? Share your thoughts below in the comment section!