Decanting wine is necessary to unleash its full flavor and aroma. Since wines are sealed in a bottle for years, it will react to air once poured. While you can always sip it straight from the bottle, you can enjoy a deeper taste if you use the right decanter. Where to buy wine decanter, you ask? I tried 30+ options for this post, and I found these five best wine decanters just for you. See which one suits the wine type and age that you have.
DECANTER
BRAND
EXPERT RATING
CHECK PRICE

Our Top Pick!


Riedel Amadeo Crystal
Wine Decanter

Check Price

Venero Crystal
Wine Decanter

Check Price

Peugeot Capitaine
Wine Decanter

Check Price

Riedel Contemporary
Wine Decanter

Check Price

YouYah Iceberg
Wine Decanter

Check Price
---
Purpose of winter decanters
You've probably seen fancy crystal wine containers before and wonder what it's all about. Far from vanity, wine decanters are used to aerate the spirit so it will achieve its full flavor and aroma as it gets exposed in the air.
Decanting actually serves two purposes. The first one is to let the wine form its aroma and flavor. While not all wines will have improved taste after decanting, it's still done since it's quite tricky to know how a specific bottle of wine will react to aeration. It's like allowing the wine to breathe, so it will release its hidden flavors that you won't taste if you chug straight from the bottle.
The other purpose is to let the sediments separate from the wine. Sediments are harmless, and it will not usually affect the aging process of the wine. However, the older the wine gets, the more sediments it forms. This is where a decanter becomes indispensable. Basically, you'd need a decanter that comes with a filter.
So why can't I just leave thee bottle open? While this may seem feasible, the opening of wine bottles is very narrow. Also, the manner of pouring actually contributes to aeration. You will also notice that most decanters have a larger base so that more wine will get exposed to air at the same time.
Lastly, decanters offer an artistic touch on your countertop. It's also a staple on every minibar.
---
Which decanter should I use?
For full-bodied red wines, you must use a decanter with a wide base. Meanwhile, light-bodied red and rosé wines must be decanted on a small base. Lastly, medium-bodied wines like merlot, barbera, and Sangiovese must be decanted on a medium base decanter.
For white wine, decanting is no longer necessary. But if you want to drink some, you can use a chilled decanter instead of ice or frozen fruit.
Aside from that, decanter comes in different shapes and sizes to suit your preference. You should consider your manner of pouring, the amount of wine you want to decant, and the budget that you're willing to spend.
---
5 Best Wine Decanters
OUR #1 CHOICE
OUR TOP PICK: Riedel Amadeo Crystal Wine Decanter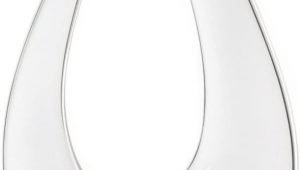 Product Name: Riedel Amadeo Crystal Wine Decanter
Product Description: If you're looking for the best wine decanter, I highly recommend the Riedel Amadeo Crystal Wine Carafe. This is handmade and mouth-blown for guaranteed craftsmanship. It also has an elegant shape with two openings, one for pouring the wine into the decanter and another for serving. This has a medium-sized base suitable for light to medium-bodied wine. The Riedel Amadeo decanter is also bundled with cleaning beads to remove stains without damaging the glass. If you're new to wine decanters, you should know that the Riedel brand is one of the pioneers. They are experts in wine decanting and ensuring that spirits will achieve their full flavor using their specially engineered decanters.
Availability: InStock
Summary
This Riedel Amadeo decanter is a piece of artwork that will adorn every countertop. It's nothing but a stunning way to aerate your wine for your guests.
For those who are looking for a premium decanter, this one is well worth the price. It's also way better than the other decanters I've used before. You can pour from the narrower neck without spilling out of the filling tube, even if it's quite full.
Lastly, this decanter comes in a box, so you can also send it as a gift to a wine enthusiast.
Quality

Efficacy

Capacity

Value for Money
Pros
Mouth-blown and handmade
Aesthetic decanter
Designed with two necks
Cons
The box it comes with is a little shoddy
---
RUNNERS-UP
Venero Crystal Wine Decanter
For those looking for a wide base decanter for their full-bodied wine, this one from Venero is an excellent choice. It's made of lead-free crystal and is 11″ tall and 8.7″ wide. It can hold a large amount of wine at a time, which is perfect for gatherings. The decanter is a bit cumbersome at 2.76 pounds but understandable since it's made of premium glass.
Aside from the decanter, it also comes with a spherical stopper to control the wine's oxidation level. It also comes at a classy gift box that's surprising for this lower price level.
I also like the wide neck opening, which lets me pour wine without any spills. Just make sure that you handle the ball stopper carefully as it will get smashed on the floor easily.
Anyway, if there's one downside here, it's the fact that it doesn't come with cleaning beads. Other than that, this is a high-quality decanter that will put your guests in awe.
Overall, this is a simple and classic decanter. You'll never go wrong with its wide base with great value for money.
---
Peugeot Capitaine Magnum Wine Decanter
The Peugeot Capitaine Magnum Wine Decanter has a medium base suitable for mid-bodied wines. It also comes with a glass stopper plug to control the oxygenation of your favorite wines. I also like how weighted the stopper is, so it really seals the lid of the decanter.
Moreover, this decanter can hold up to .75L or a magnum 1.5L bottle per pour. It's 12.25″ tall with a 7″ base, which is perfect for large wine servings at home or during special gatherings. If that's too big, you can get this at a 10.25″ version.
This decanter comes with a gift box so it can be sent as a gift to a friend or loved one. As a hand-blown glass, this Peugeot decanter has a natural and aesthetic look that will complement every countertop. It has a giant top and sleek curves, which is a steal for this price range.
The only thing I noticed is that it drips a little when being poured, so make sure that you have a paper towel handy to wipe it off.
Overall, this decanter isn't too thin or too thick. It's well-made and has a good quality that will last for years if used properly.
---
Riedel Contemporary Wine Decanter
If you're decanting light-bodied wine, you should get the Riedel Contemporary Wine Decanter. It's a machine-made decanter with a complex design to ensure that your spirits will achieve the best flavor and aroma. Aside from contemporary, you can also get this in New York, Merlot, and modern design.
Moreover, this smaller decanter can hold 60 ounces of wine at a time. It's suitable for home use or small gatherings.
All the Riedel decanters are made in Austria and guaranteed to have the best craftsmanship. It's made of crystal, so it's guaranteed to be lead-free.
Overall, it's easy to pour, and the size is just right for casual uses. I also find it easier to remove the wine sediments out, thanks to its flat bottom. I barely need any cleaning beads for this one since the opening is wide.
Lastly, I like that it comes in a well-padded box. It's simple yet elegant, which is worth every dollar. It's easy to hold and clean after each use.
Anyway, just remember that this doesn't come with a stopper, so you should finish up the wine within the day.
---
YouYah Iceberg Wine Decanter
My last recommendation is the YouYah Iceberg Wine Decanter. This one comes with a unique waterfall pouring design that speeds up the aeration process. Unlike typical decanters with open lids, this from YouYah will only require five minutes to aerate your spirits.
Aside from that, it comes with a stainless steel fine filter that will collect sediments as you pour. This reduces the staining at the wide base of the decanter.
This also comes with a glass stopper and cleaning beads. If you're a wine enthusiast, this is a great decanting kit to have. The carafe itself is lead-free, and the stopper has silicone gel to ensure a tight fit. To complete the package is a drying stand, so you no longer have to balance the decanter on the dish rack.
Moreover, the bottom of this decanter is more spacious and can hold more wine. It has a majestic look that's surprising for this price range.
Overall, this decanter will turn heads on your countertop. It's sleek and stylish, which is something you'd want to have at home or your minibar.
---
How to maintain a wine decanter
Wine decanters are fragile and must be taken care of properly. Here are some of the tips to keep in mind so your precious decanter will last long:
Use cleaning beads. Some decanters are bundled with beads that are intended to scrape off stains at the base. You simply pour the beads into the decanter and add some water. After that, swirl the decanter so the beads will roll around and take the stain off.
Scrub the neck. If the neck of the decanter is also stained, you can use a sponge to wipe it off. Use a wooden spoon to push the brush onto the neck gently.
Don't use the dishwasher! While it might be tempting to clean the decanter on the dishwasher, you should never do so. There would be leftover soaps, and the decanter will be scraped badly. Also, decanters with wide bases won't be fully cleaned in the dishwasher.
---
Frequently Asked Questions
Q: How long can you leave wine in a decanter?
A: Wine poured in a decanter must be consumed within 2 to 3 days. Leaving the wine on the decanter longer than that will mess on the flavor of the spirit. Depending on the variety of wine, decanting it will require at least 30 minutes to 3 hours. Also, you should only pour the amount that you intend to consume right away.
Q: Can I place the wine in a decanter in the fridge?
A: Yes, you can, but make sure that you decant the wine first. Pour the wine into the decanter then let it aerate for at least 30 minutes. After that, you can now place the wine in the fridge to chill as you prepare a meal.
Q: Does red wine need to be refrigerated?
A: Unless you're planning to drink the red wine right away, you shouldn't chill it in the fridge. It must be stored in a dark place at room temperature. Chilling the wine all the time will slow down its chemical processes. It includes the level of oxygen that hits the wine for decanting.
Q: How long does red wine last after opening?
A: Red wine will usually last for 3 to 5 days once you open it. But if there are more tannins and higher acidity levels to the wine, it can last longer than typical ones. If you're opening a Pinot Noir, you should consume it within 1 to 2 days. Anything beyond that will affect the taste of the red wine.
Q: Can you aerate a wine too much?
A: Yes, it's possible to aerate wine too much. Exposing the wine in the air for too long will make it taste nutty and old. It will lose its personality the longer it experiences oxidation. Over time, the wine will become vinegar, which is just sour and not enjoyable to drink. Nevertheless, it will not be toxic or harmful in most cases.
---
Final words
Where to buy wine decanter? Instead of investing your money on dud pieces, you can try one of the five carafes I reviewed here. Each one is made of premium materials and designed for optimal aeration. You'll surely achieve the taste and aroma that you want.
What do you think of these decanters? Let us know below!